Christmas is a universally celebrated festival. Every year countries around the globe welcome Christmas by immersing their region into twinkling lights, Christmas decorations, and age-old traditions. However, the grand festival is incomplete without a Christmas market. What better way to get into the festive spirit than to visit a glittering Christmas market and do some shopping for your loved ones? And if you combine travel, it is going to be a splendid Christmas to remember. We are listing The World's Best Christmas Markets For 2019 here.
Strasbourg, France
The capital of Christmas, Strasbourg is nothing short of ecstasy.
Dating back to 1570, this Christmas market is one of the oldest in Europe. Three hundred wooden chalets (little huts) are spread across 11 themed villages across the city center. They sell handicrafts, decorations, and seasonal treats. The place attracts 2 million visitors every year, which explains the grace of the Christmas markets in Strasbourg.
Must try: Vin chaud, bredele biscuits (a local specialty that comes in a range of flavors, such as hazelnut, orange, cinnamon or praline), choucroute (pickled cabbages) and baeckeoffe stew.
Copenhagen, Denmark
The Danish capital is always abuzz with festivity and celebrations. However, Christmas time in Copenhagen will witness the supreme level of those festivities. The traditional Christmas market of Copenhagen will take place in the world's second oldest amusement park, the Tivoli Gardens. The garden will be a typical fairy tale with Christmas trees, lights decorations, and a frozen lake turned ice-skating rink.
Must try: Glõgg (mulled wine), æbleskiver (pancake puffs) with jam and sugar, roast pork sandwich with red cabbage.
Helsinki, Finland
The Christmas market in the land of Santa Claus is second to none. You can meet the real Santa Claus in person and tick that down from the bucket list. Beautifully and traditionally set, this market is going to take your breath away.
Must try: A glass of glögi, warming mulled wine and reindeer meat – a Finnish specialty.
Stockholm, Sweden
The capital city of this Scandinavian country has a glittering Christmas market. Dating back to 1837, Stockholm's Christmas market is one of the oldest in the Sweden which has 40 red stalls that blend perfectly in the historical backdrop.
Must try: a cup of glögg (mulled red wine with an aromatic mix of spices), Swedish Christmas treats such as pepparkakor (gingersnaps), saffransbullar (saffron buns), elk meat, smoked sausages, and reindeer.
Sibiu, Romania
The Christmas markets in Romania is sheer magic. Set in between three beautiful mountain ranges, in the Grand Square (Piața Mare) of the city's Old Town, Christmas market in Sibiu has 70 huts which mostly sell pottery, furs, and wooden children's toys. There is a chance for snow, which in turn create a charm to the market areas.
Must try: mulled wine, gingerbread, roasted chestnuts, Romanian-Hungarian specialties such as cozonac (sweet bread) and Kürtőskalács (cone-shaped spit cakes).
Dresden, Germany
This 600-year-old market in Germany is going to make you awestruck. With more than 250 stalls selling amazing products, this Christmas market is the oldest one in Germany.
Must try: Glühwein (mulled wine), Pulsnitzer Pfefferkuchen (gingerbread filled with jam and covered in chocolate), Dresden Rahmklecks (freshly baked bread stuffed with cheese, bratwurst (sausage) and pretzels (a baked snack).
Prague, Czech Republic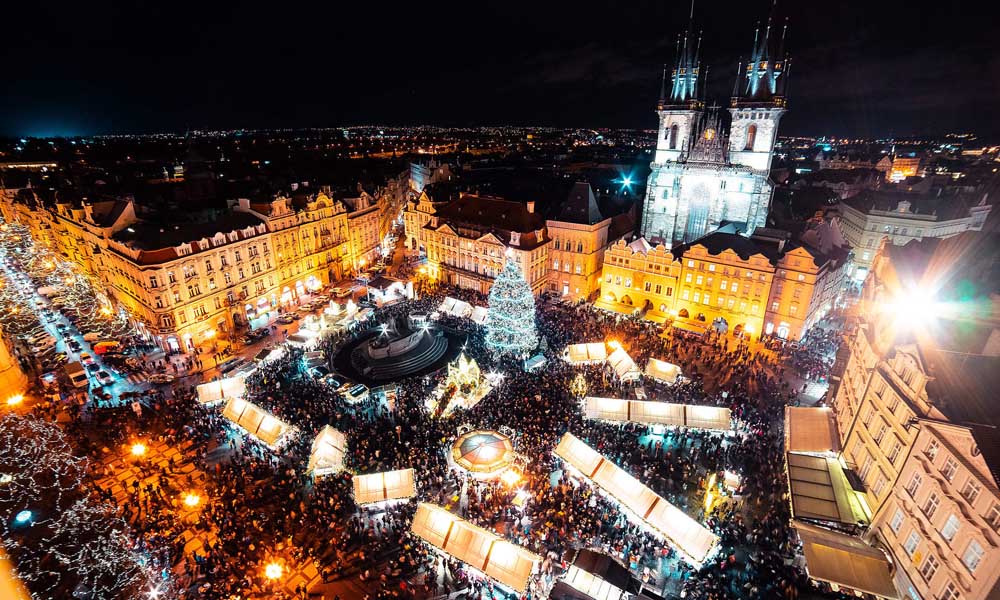 The residents of Prague is very much into the festivity, especially when it comes to Christmas. There are plenty of Christmas markets in the town which sells a variety of Christmas goodies.
Must try: barbecued pork and blood sausage, medovina – a refreshing honey wine known as mead in English.
Moscow, Russia
Moscow's Red Square will be lit up with the Christmas markets till late January. Only 20 stands will be there for the market, but the backdrop of the majestic St. Basil's Basilica, surrounded by Kremlin's imposing walls and the ice rink will make it look spectacular.
Russians celebrate Christmas on January 7th, keeping the Russian Orthodox Christmas tradition. That is why the markets will stay active until late January.
Must try: baked potatoes with mushrooms and pickles, pancakes with caviar, mulled wine and Russian gingerbread.
Sabsan Holidays have amazing tour deals for World's Best Christmas Markets during Christmas to all the above destinations. Ping us for more details.