Who doesn't like traveling? Everybody loves to explore the world that they live in, but the financial and societal limitations are pulling them back. Just like the quote, " If traveling were free, you would never see me again." However, travel quotes are a great source of inspiration, especially when you are planning for a trip, recovering from a trip, or having post-travel depression. Here we have compiled a list of Best Inspirational Travel Quotes to boost that wanderlust in you.
"Travel isn't always pretty. It isn't always comfortable. Sometimes it hurts, it even breaks your heart. But that's okay. The journey changes you; it should change you. It leaves marks on your memory, on your consciousness, on your heart, and on your body. You take something with you. Hopefully, you leave something good behind." – Anthony Bourdain
Inspirational Travel Quotes
1."Travel is never a matter of money but of courage" – Paulo Coelho
2."With age, comes wisdom. With travel, comes understanding." – Sandra Lake
3."Once a year, go some place you've never been before." – Dalai Lama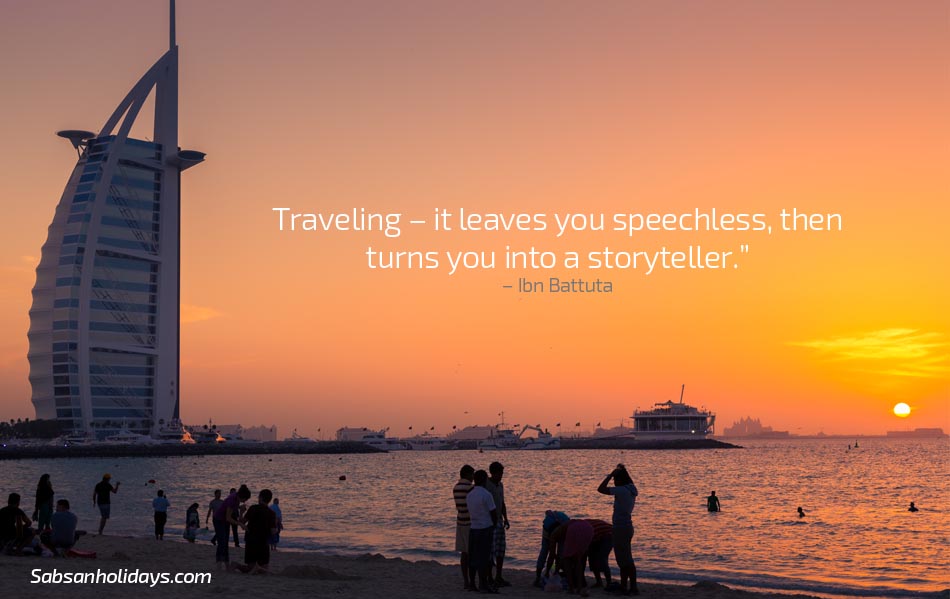 4."Traveling – it leaves you speechless, then turns you into a storyteller." – Ibn Battuta
5."The world is a book and those who do not travel read only one page." – St. Augustine
6."Travel doesn't become adventure until you leave yourself behind."- Marty Rubin
7."Travel makes one modest. You see what a tiny place you occupy in the world." – Gustave Flaubert
8."A journey of a thousand miles begins with a single step." – Confucius
9."Twenty years from now you will be more disappointed by the things that you didn't do than by the ones you did do. So throw off the bowlines. Sail away from the safe harbor. Catch the trade winds in your sails. Explore. Dream. Discover."― Sarah Frances Brown, mother of author H Jackson Brown
10."To Travel is to Live" – Hans Christian Andersen
We feel the Dalai Lama's quote is the best one in all of this. Visit at least one place in a year that you haven't seen before. Explore the place and immerse yourself in the culture.
11."Travel makes one modest. You see what a tiny place you occupy in the world." -Gustav Flaubert
12."If you're twenty-two, physically fit, hungry to learn and be better, I urge you to travel – as far and as widely as possible. Sleep on floors if you have to. Find out how other people live and eat and cook. Learn from them – wherever you go." – Anthony Bourdain
13."Live your life by a compass not a clock." – Stephen Covey
14."I travel a lot; I hate having my life disrupted by routine." – Caskie Stinnett
15."People don't take trips, trips take people." – John Steinbeck
16."I haven't been everywhere, but it's on my list." – Susan Sontag
17."Travel is only glamorous in retrospect" – Paul Theroux
18."Perhaps travel cannot prevent bigotry, but by demonstrating that all peoples cry, laugh, eat, worry, and die, it can introduce the idea that if we try and understand each other, we may even become friends" – Maya Angelou
19."To travel is to discover that everyone is wrong about other countries" – Aldous Huxley
Travelling puts things into perspective and lets you discover the unknown land and people. It is the greatest escape from reality that broadens your perspective about everything. It forces you to become a storyteller and breaks the monotony of life.
20."Traveling is a brutality. It forces you to trust strangers and to lose sight of all that familiar comfort of home and friends.
21. You are constantly off balance. Nothing is yours except the essential things: air, sleep, dreams, sea, the sky – all things tending towards the eternal or what we imagine of it." – Cesare Pavese
22."The pleasure we derive from journeys is perhaps dependent more on the mindset with which we travel than on the destination we travel to" – Alain de Botton
23."We travel for romance, we travel for architecture, and we travel to be lost." – Ray Bradbury
24. "A person susceptible to "wanderlust" is not so much addicted to movement as committed to transformation." – Pico Iyer
25."Travel doesn't become adventure until you leave yourself behind" – Marty Rubin
26 "I travel because it makes me realize how much I haven't seen, how much I'm not going to see, and how much I still need to see." – Carew Papritz
27."We travel, some of us forever, to seek other states, other lives, other souls." – Anais Nin
28. "I travel not to go anywhere, but to go. I travel for travel's sake. The great affair is to move." – Robert Louis Stevenson
29."A good traveler has no fixed plans, and is not intent on arriving." Lao Tzu
30. "A wise traveler never despises his own country." – Pamela Goldoni
31."The gladdest moment in human life is a departure into unknown lands." – Sir Richard Burton
32. "Be fearless in the pursuit of what sets your soul on fire." – Jennifer Lee
33. "And then there is the most dangerous risk of all — the risk of spending your life not doing what you want on the bet you can buy yourself the freedom to do it later." – Randy Komisar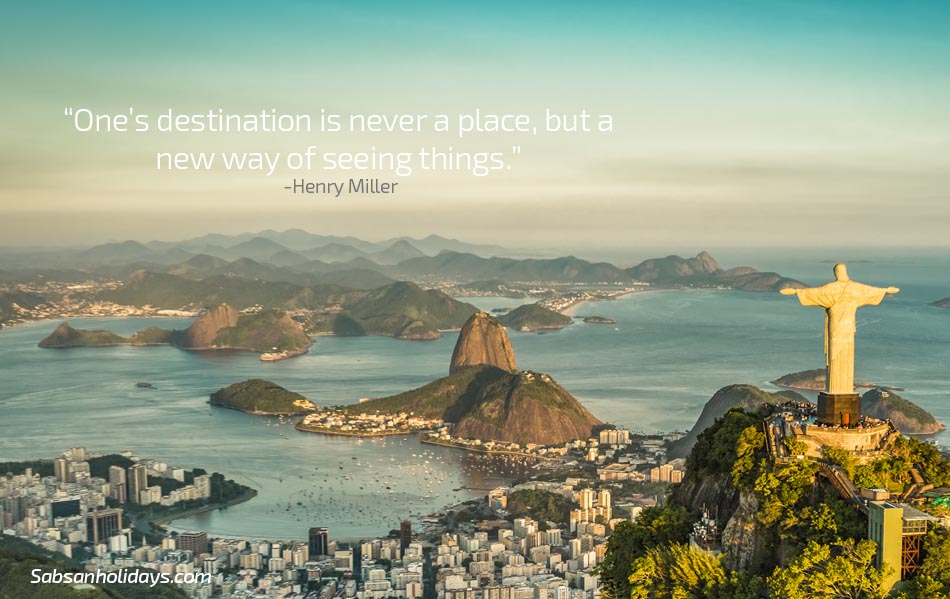 34. "One's destination is never a place, but a new way of seeing things." -Henry Miller
35. "If you reject the food, ignore the customs, fear the religion and avoid the people, you might better stay home." -James Michener
36. "The greatest reward and luxury of travel is to be able to experience everyday things as if for the first time." – Bill Bryson
37. "To travel is to discover that everyone is wrong about other countries." – Aldous Huxley
38. "Once the travel bug bites there is no known antidote, and I know that I shall be happly infected until the end of my Life." – Michael palin
39. "Life is either a daring adventure or nothing at all." – Helen Keller
40. "The real home of man is not his house but the road. Life itself is a travel that has to be done by foot." – Bruce Chatwin
45. "The Impulse to travel is one of the hopeful symptoms of Life." – Agnes Repplier

46. "Like all great travellers, I have seen more than I remember, and remember more than I have seen." – Benjamin Disraeli

47. "You do not travel if you are afraid of the unknown, you travel for the unknown, that reveals you with yourself." – Ella Maillart

48. "A wise traveler never despises his own country." – Pamela Goldoni

49. "Life begins at the end of your comfort zone "- Neale Donald Walsch
50. "Travel is the only thing you buy that makes you richer." – Unknown
So, I hope you enjoy all the inspirational Travel Quotes and we inspired you to travel. Now, if you have any travel plans, contact us. We have the best tour packages.