Tick Tock Tick Tock… The clock is ticking, and this mighty year "2020" is ending with all its glory. It is quite hard to believe, right? Bid adieu to all the good, bad, and ugly happened in 2020 and embrace the New Year with hopes and admirations. If you are planning to welcome the new year with a bash while saying goodbye to 2020, then we know a spectacular spot on this planet- Dubai! Dubai is setting an example for the world countries on how to celebrate the New Year. With new year eve parties, events and dinners, there are plenty of things to experience and enjoy in Dubai. 
But skepticism surrounds the current pandemic new year. With the holiday season fast approaching and the surging COVID rates in UAE, the celebrations are planned in a way that it will keep us safe and healthy. So, what about the gatherings? Can you have a people at home? Here are some of the answers for your doubts.
1. Is Dubai celebrating New Year 2021?
Yes, Dubai will be celebrating new year adhering to strict measures to prevent the spreading of COVID.
2. Can I hold private gatherings?
No private gatherings are strictly prohibited.
3. Where are the New Year 2021 fireworks in Dubai?
Fireworks and other celebrations are expected to happen in routine places with limited crowds and proper social distancing. 
4. Are there concerts happening during the new year?
Concerts are allowed, but only after receiving approval from authorities.
5. What are the guidelines for the New Year 2021 celebrations in Dubai?
Here are the guidelines for celebrating the new year 2021 in public places
All citizens are reminded to wear masks always. 

The physical distance of at least 2 meters is advised in public areas.

Wash and sanities the hands by following safety guidelines.

Allow temperature checks. 
6. Where can I celebrate New Year's Eve 2021 in Dubai?
From fireworks to the late-night parties, Dubai has everything to spice up the fiesta. However, it is a daunting task to make a list of Dubai New Years Eve 2021 Parties, since there are plenty of things happening around. 
In fact, we have compiled a list of the best parties and events happening around Dubai. Read below!
Dubai New Years Eve 2021 Parties & Fireworks
You will be left out if you don't watch the new year fireworks organized in different corners of Dubai. The New Year fireworks in Dubai is just magnificent. No words to express the sky show set up by the organizers during New Year. Catch this fantastic spectacle in the city's iconic spots. 
Here is the list of places hosting fireworks in connection with New Year
Burj Khalifa: One of the best places to watch the New Year Fireworks in the whole world. The show has won a couple of records and is recognized worldwide. You can go early and grab your seat or else book a hotel next to Burj Khalifa to get a good view of the fireworks. 
Dubai Festival City Mall: Another spot in Dubai where you can catch a glimpse of firework. Better grab a seat in the restaurant area. 
Burj Al Arab: Burj Al Arab hosts amazing fireworks every year in connection with the New Year celebration. You can head to kite beach and grab a free spot to watch the fireworks. 
Atlantis: This luxurious resort will host firework every year, and it's splendid to watch.
Apart from the above places, La Mer, Al Seef, JBR, and Global Village will host spectacular fireworks in connection with the new year celebration. It is not confirmed officially, but the celebrations are gearing up at this spot. 
KISS band Show In Atlantis
The world-famous KISS band is expected to perform a massive concert during this new year in Atlantis. Live stream packages start at US$39.99 (Dhs147) and include the live stream on the night, as well as one replay over 24 hours. A deluxe package is available for US$49.99 (Dhs184) and has unlimited replays for over 72 hours. The VIP package is for US$999.99 (Dhs3,673) that includes unlimited replays for 30 days.
The concert will be filmed with more than 50 cameras and 360-degree views to ensure the best video experience. If you are a guest of Atlantis, you can watch the show from the room balconies. 
Dubai Cruise, Catamaran And Yachts
Welcome the new year 2021 with glam at Dubai Cruise and Yachts. You can reach out to Sabsan Holidays for booking the premium class yachts, Catamaran, and cruise. 
Our splendid rides will take you to almost all the iconic spots in Dubai while you enjoy a delicious dinner and drinks on board. There are other entertainment activities, such as dance and music shows. Moreover, you can watch the fireworks while you spend your time inside the cruise. Our cruise services are- 
Dhow Cruise In Yas Marina: Yas Marina in Abu Dhabi is a glorious location to celebrate the new year. Overlook the new year celebration of Abu Dhabi while you enjoy your time inside the dhow cruise.
Dubai Marina Cruise: We have cruise party services in Dubai Marina, which will give you an experience of a lifetime. Marina skyline and the spectacular celebrations will provide you with a good kickstart for the year 2021. 
Dubai Catamaran Cruise Party: If you are looking to have a group party or get together during this new year, you can consider cruising in Catamaran. It has all the feature and facilities that will make you new year journey extremely comfortable. The catamaran services are available only at the water canal. 
Dubai Water Canal Cruise: This water canal cruise will give you a ride through the heart of the city. It will take you to almost all the major destinations in the city, and you can catch a glimpse of the firework without any hassles. 
Dubai Creek Cruise: Sip up the champagne while you enjoy your ride on the old side of Dubai. The Dubai creek cruise will take you to a laid back trip in the Dubai Creekside. 
Dubai Desert Safari
Dubai Desert Safari is yet another experience that will take you to the yellow hues in the middle of the deserts in a safari vehicle. The ride itself is enthralling, which gives you a huge adrenaline rush. After watching the sunset, you will be transported to the campsite for fun-filled activities such as henna painting, camel ride, dune bashing, fancy Arabic dress, etc. Moreover, you will also get to watch Arabic dance and music shows while you enjoy the scrumptious dinner at the campsite.
Desert Safari is a good option if you want to celebrate the New Year away from the city hassles. Don't worry about the fireworks! In connection with the new year's eve, the campsite will set up a flashing and spectacular firework in the middle of the desert. Sabsan Holidays are giving the best desert safari deals that include BBQ, shisha with live entertainment, belly dancing, and Tanura shows. There are alcoholic and non-alcoholic options for desert safari.
BEST NEW YEAR EVE 2021 DINNERS IN DUBAI
Almost all the restaurants in Dubai will host new year eves dinner, especially the ones around the hot spot areas in the city. If you want to enjoy the dinner overlooking the new year celebrations in Dubai, it is better to reserve a table in the above locations, so that you can watch the fireworks without any stress. Below are the restaurant recommendations from us.
Dubai Mall
Book a table in one of the famous restaurants lining the waterfront by The Dubai Mall, so that you can catch a glimpse of fireworks. As I mentioned before, Dubai Mall will have a grant new year celebration with fireworks on Burj Khalifa and other entertainment activities. Make plans before since the roads to downtown will be shut down for crowd control. 
Souk Al Bahar
Eateries such as Karma Kafé and Serafina inside Souk Al Bahar give a clear picture of Burj Khalifa firework. It is where the tourists dine to watch over the water fountain show in Dubai Mall. Souk Al Bahar is an upscale dining area located just across the bridge from the Dubai Mall.
The Pointe
With plenty of restaurants and shops to explore, The Pointe is an entertainment section located across the bay from Atlantis, The Palm. Most of the restaurants have outdoor balconies that will give a spectacular view of the mesmerizing Palm. 
Dubai Festival City Mall
The food court area of the Dubai festival city mall is an excellent stage for watching the fireworks. Apart from the fireworks, there are plenty of entertainment activities in this mall.
Timings: 05:00 pm onwards 
Free Entry
Location: Dubai Festival City Mall
Contact: 800-332
McGettigan's JLT
McGettigan's JLT is hosting a new year dinner with live music from some of the best bands in the city! It is one of the best sports bars in the city which has free-flowing drinks from 08:00 pm – 12:30 am. If you want to have an energetic New Year, then head to McGettigan's JLT. 
Date: 31 December 2019
Timings: 08:00 pm onwards 
Ticket: AED 499
Contact: +971-4-378-0800 / contact@mcgettigans.com 
Karak House
Have a scrumptious Emirati dinner at Karak House while you enjoy the spectacular fireworks of Burj Khalifa. 
Date: 31 December 2019
Tickets: AED 750 (Outdoor seating), AED 500 (Indoor seating), Half price for children aged 5-12 years
Contact: +971-4-551-6852
Arabian Ranches Golf Club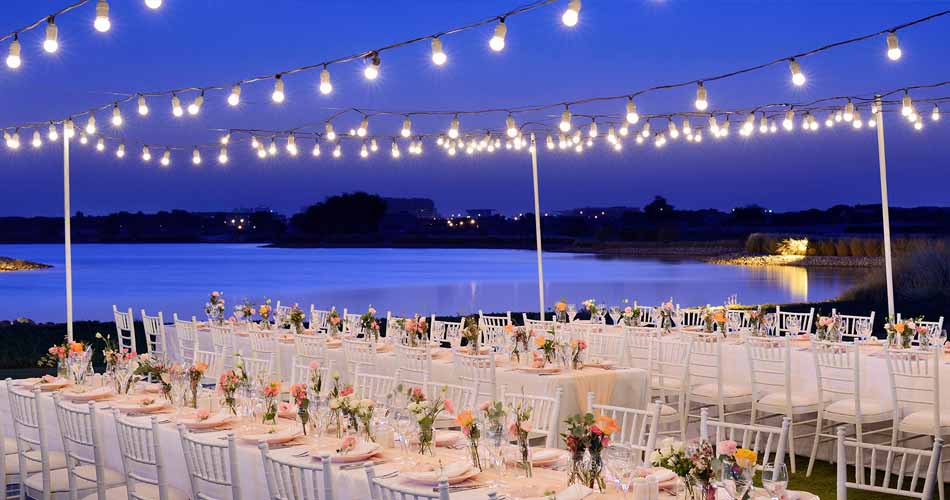 Arabian Ranches Golf Club is another spot for family New Year Eve in Dubai. They will host a special dinner for the family with great music and other entertainment activities.
Date: 31st December 2019
Time: 08:00 pm to 02:00 am
Price: Adult AED 695; Young Adult AED 445; Child AED 195
Contact: +971-4-360-7935 or restaurant@arabianranchesgolf.ae
AL SEEF/ LA MER
For an ultimate New Year Eve with family, La Mer and Al Seef are the best places to hang out. These waterfront markets are having plenty of restaurants and retail outlets to spice up your night. There will be live music shows and dance programs for adults. However, kids will be engaged with carnival rides and petting zoos. 
That is all we have for the Dubai New Year 2021 celebrations list. And 2021 is one of the most anticipated years by the admirers of this city, Dubai, because of the Expo that is happening in this country. 
Set your New Year resolutions in Dubai and have a fantastic time in Dubai with Sabsan Holidays. We are ready to serve you during this new year by providing the best Dubai New Year Packages. You can also book a desert safari, a cruise ride, Dubai new years eve 2021 parties and staycations with us. Call us for more details.