Dubai ranks among the top three cities in the world that receives the most number of tourists in comparison to its population size. Being the world's most popular holiday destination, this city has established itself as a force to be reckoned when it comes to travel and tourism. From an ordinary fishing village community to one of the most expensive cities in the world, Dubai has drastically evolved into an exciting tourist destination.
It is now a mesmerizing city that has a lot of wonders beyond your imagination. Dubai not only offers an extravagant experience to the adults but also has ideal spots for kids to have entertainment. The unlimited entertainment option and enticing tourist destinations make it hard for us to curate the best things to do in Dubai since the list will run down to a few hundred pages.
Here are the top things to do in Dubai 2020
#1 Burj Khalifa

Standing 828 meters high, Burj Khalifa is the tallest human-made structure in the world, and it is hard to miss. Located in Downtown Dubai, besides the mighty Dubai Mall, Burj Khalifa is the most iconic structure in the Dubai skyline.
If you are using the metro, you have to get down at Dubai Mall metro station to access this tallest building. You can walk through the air-conditioned pass or take a bus to the point. The tickets to the Burj Khalifa top is available inside the Dubai Mall. However, if you want to avoid the hassle of finding the office and dealing with long queues, book your At the Top, Burj Khalifa tickets in advance with Sabsan Holidays.
There are two observation decks open for the public. The view from the observation deck (level 124) is super gorgeous on a clear day. There are telescopes built with technology that provides high definition views of landmarks and attractions beyond the city. It's also equipped with a feature that reveals how the town looks like during day and night. Come prepared with your camera because the view from the top is going to take your breath away.
#2 The Dubai Mall

The Dubai Mall is the ultimate destination for shopaholics. Located adjacent to the world's tallest building, Dubai Mall is one place in Dubai where the shopping freaks will rejoice. Apart from the shopping outlets, Dubai Mall has entertainment and leisurely spots to have a fun-filled day. The venue has got 1,200-plus shops and 150 restaurants; an indoor theme park, an ice rink, a huge indoor waterfall, a choreographed outdoor fountain, and a vast Dubai Aquarium and Underwater Zoo.
With more than 1,200 retail stores, two anchor department stores, and hundreds of food and beverage outlets, Dubai malls cover an area equivalent to 100 football pitches (more than 1 million sqm). One day is not enough to explore this place, which has some mindblowing wonders such as water fountain, indoor fountain, and much more.
#3 Dubai Parks & Resorts

Dubai Parks and Resorts are a hub for theme parks and resorts, which give entertainment opportunities for all age groups. There are three theme parks and one water park that features more than 100 spectacular indoor and outdoor rides. The parks such as Motiongate, Bollywood Park, and Legoland theme and waterpark are exclusively made for the young crowd, whereas Riverland Boulevard, which is home to restaurants and exciting entertainment programs, is purely for adults.
The travelers will find delicious options in Riverland entertainment and dining boulevard. You can access this area for free, which has four vibrant districts- The Peninsula, India Gate, The Boardwalk, and The French Village. Enjoy the delicious international food from more than 50 outlets while you take in the views of marvelous architecture, bridges, and other landmarks.
Moreover, you can have a unique staycation at Lapita Hotel, Polynesian-themed family resort inside the park. You can relax among the palm trees and alluring lagoons to experience an authentic pacific feel.
---

---
#4 Dubai Creek

Welcome to the best value tourist attraction in Dubai, where the history of UAE sleeps. The Creek is one of the most famous historical sites in Dubai frequently visited by tourists. This saltwater creek runs through the middle separating the Bur Dubai and Deira areas of Dubai. It is, in fact, a focal point of the city, which lets the tourists enjoy the hustle and bustle of its goings-on.
Abra ride is a famous touristy thing on this side, and a trip on abra in Creek costs just one AED. However, these creek rides are a part of historic trade routes to locations to and from Dubai. The Creek has museums, textile and Gold souqs, and traditional Abras that do the transit job in the saltwater estuary.
Sabsan Holiday is providing Dhow cruise services in this saltwater estuary. Our cruise will take you to almost all the major destinations on the creekside. We have entertainment activities such as music and dance programs, along with scrumptious dinner on board.
#5 Dubai Frame
The newest addition to the city highlights is fast becoming the most loved destination of tourists and travelers alike. This frame serves the exact job of other sky-high buildings in Dubai, such as Burj Khalifa and Burj Al Arab, that is providing a panoramic view of the city. But, Dubai Frame has a unique concept- the north side of the frame shows the historical side of Dubai, whereas the southern part provides breathtaking views of the city's modern skyline.
The frame vertical glass bridge connects the two parallel towers 1(50m tall and 93m wide), which make the shape of a frame. You will get an eagle-eye view of the city from the 150m high frame while you endure the past, present, and future from the ground to the sky. If you are brave enough, you can walk in the 50m long opaque glass bridge at the Sky-deck that becomes clear only when a visitor walks over it. This gives a feeling that you are walking in the air. Expect to hear the sound of ice cracking when you step into it.
Tickets are priced at just AED50 for adults and AED20 for children.
#6 Dubai Safari Park

Dubai Safari Park is home to 2500 animals replacing Dubai Zoo and its 1,000 animals. It is one of the newest attractions in Dubai, which is sprawled across 119 hectares. The main aim of this attraction is to provide recreational and educational performance to the visitors.
You will be transported in a solar-powered vehicle through these "villages," namely the Arabian, Asian, African, and Safari Village.
Al Warqa's Dubai Safari is a haven for animal lovers. The park is eco-friendly that mainly uses solar energy for functioning. Besides, there are live encounters and themed sessions for adventure junkies.
#7 The Walk and The Beach at JBR

Both the tourists and residents admire the Walk and The Beach at JBR due to the neighborhood's breathtaking sights. It is one of the district's energetic atmosphere where people come for a walk, exercise, and jogging. The place is always abuzz with a lot of people. It is a one-stop spot for the movie, shopping, food, and beach — an excellent place to relax and rejuvenate.
If you are tired of roaming around the city and exploring the touristy spots, you can sit back and relax at this place. However, it is worth checking out!
#8 Gold Souk
Dubai loves Gold, and these gold souks are a symbolic representation of Arab culture. Located in the heart of the city's commercial district, Deira, the gold market has grown by leaps and bounds since its advent in the early 1900s. And the free trade policy by Dubai lets the other country traders set up a shop here.
Dubai gold souk is home to over 300 gold retail stores, which mostly trade-in jewelry and is expected to have more than 10 tons of Gold
At a time. It also trades in precious metals like platinum and silver, and stones like diamonds, rubies, emeralds, etc.
A trip to Dubai is incomplete without a visit to the gold markets since the place reflects the old culture of the UAE. Walkthrough the luscious markets of Gold and grab some for you dear ones at an affordable rate. Even if you don't have the intention to buy gold, it is worth visiting this busy souk area. After all, you won't get tired of the yellow shimmer and glitter of the gold.
#9 Spice Souk
The spice souq is a must-visit spot in UAE. The spice souk in Deira is located quite near to the gold souk. The souk has various narrow lanes filled with the aroma of spice, which will give your sense an ecstatic feeling. Apart from the spices, the retailers in the spice souk promote shisha and frankincense plus herbs used in traditional South Asian and Arabic meals, artifacts, rugs, incense, and textiles.
Exploring spice souk will definitely give you an idea about the historical side of this post-modern city. Moreover, this will be a unique shopping experience for you. The narrow alleys of souq have the aroma of spices, where you can hop on take some back home.
#10 Ski Dubai
Dubai has always been an epicenter of tremendous growth and technological innovations. The city has become a tourist hub attracting millions of people worldwide only because of the iconic human-made structures. One of these human-made wonders in this desert is the 22,500 square meters indoor ski resort. It features an 85-meter high snow mountain that consists of 5 slopes with different levels of difficulty and steepness.
If you think you miss winter activities and is a bit stressed about the fact that you live in a desert, head to Ski Dubai in the Mall of Emirates. You can enjoy the winter as you do in Cold countries.
#11 Desert Safari

How about an adrenaline-pumping ride through the desert dunes? Then sign up for the desert safari and enjoy the quad biking, belly dance, henna design, and camel ride. A ride in the dunes is a mandatory touristy thing to do when you are in Dubai. You can book the private desert safari with Sabsan Holidays because we promise you the best service at affordable rates.
The desert safari will start with a rollercoaster ride through the dunes, which will stop at one point to take photographs. Depending upon the type of desert safari, you will have the stop. For example, if you are taking evening night safari, you will be stopped at a point to watch the sunset. Later on, you will be transferred to the campsite where you will witness the desert life led by traditional people. Though the campground is traditional in outlook, it is completely equipped with advanced facilities, including electricity, washrooms, and telephones.
Get deep into the Arabic culture with the traditional dance and music show with dinner at the campsite. Check Sabsan's desert safari packages
#12 Kite Beach
Jumeirah Beach is one of the most popular tourist destinations in the world. The picturesque skyline and the white sandy beach will offer a perfect setting for a relaxed evening. The kite beach in Jumeirah is for the people who are serious about water sport activities. Kitesurfing, wakeboarding, and stand-up paddleboarding are some of the best activities to do here.
However, if you would like to stay in the land, we recommend you play beach volleyball or grab some quick bites from food trucks or shops lining the beach. Or you can have an evening jog in the 14 km track.
Have a sporty day at kite beach doing various beach activities or sit back and enjoy the beach
How cool is to see the fascinating animal creatures dance, juggle, play ball, jump through hoops? Dubai Dolphinarium is the UAE's unique indoor activity stadium that features illusions and aquatic acrobats. On certain occasions, the guests can swim with dolphins, feed them, or train them to be your best friend.
This Indoor Dubai Dolphinarium is not limited to mammals. There are 20 other species, including birds, cockatoos from Australia, and macaws from South America.
This place has other attractions, such as a trampoline room, a mirror maze, and a 5D and 7D theatre. What are you waiting for? Sign up for the freakish dolphin show, the seal show, exotic bird show & mirror maze.

Attention adventurers! Come and have fun at the world's longest urban zip line. Get mesmerized by the view of the city.
Dubai is not only sufficient with touristic spots but also has plenty of adventure opportunities. The Marina Zipline is one of those adventures that will give you goosebumps. It is the world's longest, steepest and fastest ziplines, measuring one kilometer, with 16 degrees inclination and an average speed of 80km/h. You will get to enjoy the splendid beauty of Marina while you participate in the zipline activity.
There are two concurrently running ziplines which enable you to have your dear one to participate in this daredevil activity. Moreover, the go pros mounted on your helmet will record all your screams, and hence, the participant receives customized video and photographs.
#15 Global Village
Global Village is a place where culture, entertainment, and shopping joins hand. This annual event opens its door to the public at the end of every year and features pavilions from different countries where visitors can pick up traditional handicrafts and snacks.
The pavilions portray the local culture of the countries it represents hence bringing cultures together so that the visitors can discover different parts of the world in just a few hours. It is one of the best photographic locations in Dubai since it has images/ models of iconic structures or local architecture such as the Taj Mahal, Eiffel Tower, etc. There will be live shows, parades, and thrilling rides in the Global village.
Come and explore the stalls of different countries in Global Village.
#16 Burj Al Arab
Burj Al Arab is Dubai's most famous tourist destination, which actually looks like a sail-shaped silhouette that gives a spectacular view to the Arabian Gulf. Opened in 1999, this luxury hotel is built on a triangular human-made island reclaimed from the sea and is 321 meters above the sea.
The property owned by Jumeirah Hotels and Resorts takes luxury to another level. The guest will enjoy impeccable hospitality with ultimate luxury in Burj Al Arab. The underwater aquarium is one of the main spots inside the hotel, along with the fleet of Rolce Royse for transfers and a private helipad.
#17 Dubai City Walk
City walk is a magical spot in the middle of the city that artfully combined shopping with entertainment. The place is a lifestyle destination with chic retail outlets and boutique hotels where you can have a stylish stroll.
City Walk is filled with street arts and food trucks, making it an Instagram worthy place. Moreover. You will get a great view of Burj Khalifa.
#18 Dubai Garden Glow
Dubai Garden Glow is having plenty of light displays made by artists around the globe. One of the most impressive things about this garden is the materials used are recycled.
There are vans in the park that offers street-style food, and there are acrobatic performances that make the night even more lively. There is also a dinosaur park that looks straight out of the Jurassic world.
#19 Beaches and sea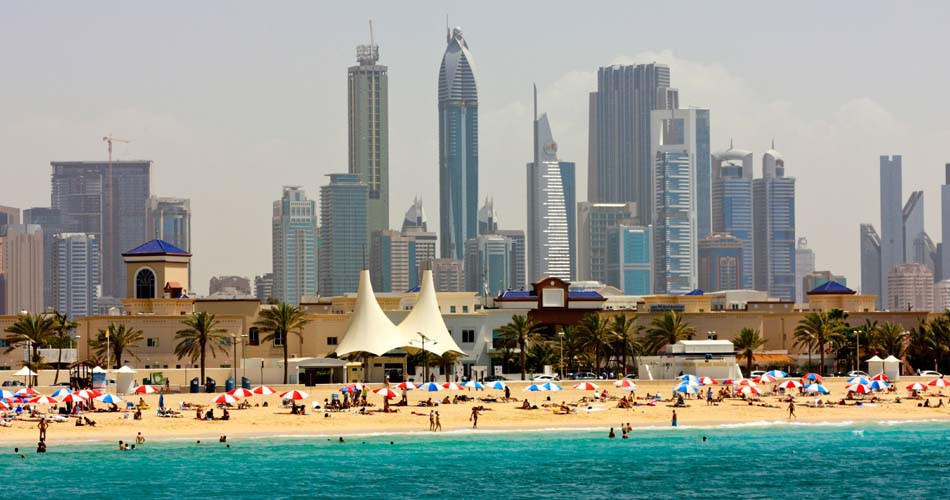 Dubai is abundantly blessed with plenty of beaches that offer innumerable opportunities for water sports activities. Some of the beaches are scenic waterfronts converted into beach parks with large playfields, magnificent botanical gardens, areas for picnic, and pulsing green places to relax. If you are in Dubai, it is mandatory to have a visit to the beaches.
#20 Shopping Malls in Dubai
Dubai is known for its malls and shopping experiences. Almost all the malls in Dubai possess every international brand in this world. Though the shopping here is expensive, the mall interiors will compensate for everything. During the Dubai Shopping Festivals, these malls will put great offers and discounts so that you can grab your favorite brand without paying much. The Dubai shopping festival mostly happens at the end of the year and extends to the beginning of the next year.
Below are the top malls In Dubai
Dubai Mall
Mall of the Emirates
Ibn Battuta Mall
Festival City Mall
Wafi Mall
Sahara Mall
Mercatto Shopping Centre
Marina Mall
Madina Mall
Oasis Centre
Deira City Centre
Mirdiff City centre
#21 Hot Air Balloon Adventure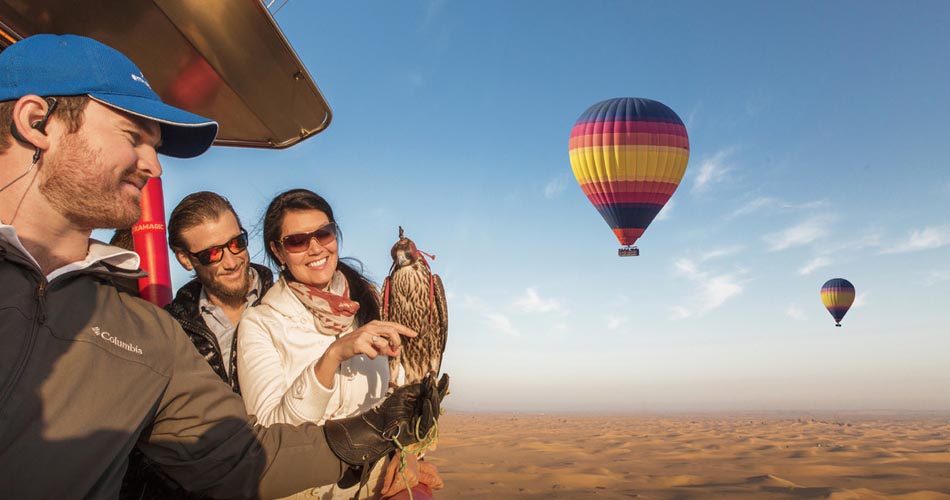 If you love adventures and this Hot Air Balloon ride is on your bucket list, then try signing up for this activity when you are in Dubai. Hot air balloon is once in a lifetime experience, and Dubai gives this exceptional and luxurious hot air balloon rides over the Dubai desert.
You will float over the Dubai desert at 4,000ft and also get to witness the world's first in-flight falcon show. You can book this hot air balloon ride with Sabsan Holidays.
#22 La Mer
La Mer is one of the best places in Dubai. You can spend a whole day lingering around this place that offers sun, sea, and outdoor fun. There are all the facilities, including a shower for a beach dip in La Mer. Also, art lovers will fall in love with the contemporary arts in this area.
Plenty of quirky restaurants and food trucks are here to delight the taste buds of the visitors. If you want to spend your day at the beach, dine from the cool hotels and admire the beautiful street arts, then head to La Mer beach.
There is no direct metro to Lamer; you can either take a bus or taxi.
#23 Camel ride
If you are fond of these innocent animals, then you can have a ride on it. There are plenty of camel farms in the UAE, where you can have a close encounter with these animals.
Camel is an exciting animal who loves to eat all the time. However, the ride in camel through the desert will be a unique experience. It will exactly make you feel like an Emirati.
#24 Dubai Museum
Located in the Al Fahidi Fort, the Dubai Museum is the oldest building in the city and is a must-visit place to explore the deep-rooted culture of Dubai. The Museum portrays the life of people before the invention of oil in Dubai. The museum recreates historic local houses, mosques, souks, date farms, deserts, and marine life.
Built-in 1787, this fort was actually a place to store weapons, but later on, renovated during the Sheikh Rashid bin Saeed Al Maktoum. The museum also shows items dating as far back as 3000BC, which is duly preserved to last longer.
#25 Wild Wadi
Wild Wadi is one of the best amusement parks you will ever visit. Whether it is to relax by the wave pool or hire a cabana for a quiet time in the lazy river, or to have a thrilling ride in the water slides, Wild Wadi is the best place in Dubai. The warm climate in the country favors a spectacular time in the water park.
Set in the theme of classic Arabian character Juha, Wild Wadi is a true Arabian water experience with plenty of rides for all age-groups. The main specialty of this water park is its location. It is located in the shores of Iconic Burj Al Arab. Flood River Flyer, Jumeirah Sceirah, and surfing simulator are the main highlights of Wil Wadi water park.
#26 Al Seef
Located in the creekside, Al Seef is a lifestyle destination with plenty of retail outlets and restaurants. Relatively, it is a new tourist destination in Dubai, and it has a tremendous amount of Emirati culture. It is set in an ancient era with a touch of modernity.
There are plenty of things to do in Al Seef. From shopping to dining and other entertainment activities, Al Seef is that weekend hang out spot in Dubai. Apart from that, this spot host splendid programs in connection with festivals and important days. Indian festivals such as Diwali, Navrathri, etc are celebrated here with stalls, fireworks, and other entertainment programs. You can check out this place during festivities for a fantastic time.
#27 Aquaventure and Atlantis The Palm
Atlantis The Palm is another iconic destination in Dubai with plenty of things to offer. The Lost Chamber is a huge aquarium where you can learn fascinating facts about the underwater marine life. Designed around the theme of the Lost City of Atlantis, the "The Lost Chambers" is a splendid location for both kids and adults. Atlantis is also home to super restaurants such as Nobu, Gordon Ramsay's Bread Street Kitchen, etc.
#28 IMG Worlds of Adventure
Before going into the detail of the IMG world of adventures, let me tell you WEAR comfortable shoes while you visit this theme park because it is having an area of 1.5 million sqft – or 28 football fields. IMG world is the biggest indoor theme park on the planet and is having mind-blowing rides.
Being one of the newest theme parks in Dubai, the rides here bring all your favorite Marvel and Cartoon Network characters to life, in five themed zones. While kids can enjoy Ben 10, Gumball, The Powerpuff Girls, and LazyTown, the biggers ones are having Spider-Man, The Hulk, Iron Man, Thor, and The Avengers for fun.
The Lost Valley – a dinosaur adventure zone in the IMG world is best for the dinosaur lovers. There is also a haunted hotel along with other eateries and retail outlets in this theme park.
Plan your IMG world tour with Sabsan Holidays and enjoy your day without any hassles.
#29 Laguna Water Park
Located in the scenic and happening La Mer, Laguna water park features five main rides, two of which are a first for the Middle East. La Mer is a bustling sea zone with retail outlets and delicious eateries. However, if you want to have more fun, then you can head to Laguna park in La Mer.
It is only placed in the Middle East where you'll find a full, 180-degree wave machine. Moreover, there is a dedicated children's zone featuring Splash Pad and AquaPlay Rainfortress, making this water park a family-friendly destination.
#30 The Dubai Fountain
The Dubai Fountain is one of the top attractions in Dubai, which recently celebrated the English series "friend's" 25th anniversary. It is truly a wonder and is once in a lifetime experience. The Dubai water fountain is more than 900ft in length and shoots water with different colored light. From classical music to contemporary Arabian tracks and classic pop songs, the fountain dance in different tunes.
Grab a seat on the side of the fountain near Dubai Mall to get a good view of the show. Or you can dine in from the eateries facing the fountain to catch the show.
#31 VR Park Dubai
Dubai has been implementing tech-related attractions to give once in a lifetime experiences. VR park in Dubai is another feather to the crown of Dubai. With 7,000sqm across two levels, VR park in Dubai is the biggest virtual reality park in the world. There are more than 30 game-changing rides and experiences for all age groups in this virtual reality park. There are plenty of activities to choose from at the VR park. Also, you can select single-player or multiplayer experiences.
You will get to enjoy all types of adrenaline-pumping experiences, such as dune bashing, etc. The entry for VR park is free – with prices for each experience starting from just AED15. If you are not a VR person, you can linger in the PVRK Cafe.
#32 Souk Madinat Jumeirah
Souk Madinat Jumeirah is a hotspot in Dubai that blends ancient culture and modernity. It is a part of Madinat Jumeirah resort that offers endless lanes to take a walk on. The traditional souk has got a modern makeover, and it has perfumed scents, the glowing lanterns, the fragrant spices, and the artisanal souvenirs.
You will find everything to take home here in Souk Madinat Jumeirah. There are 75 shops, galleries, and dining outlets here. The night time in the souk will witness plenty of activities, including music and dance shows.
You can choose to explore the resort if you want, or you can take a ride in an abra boat for a five-kilometer journey along the Madinat waterways. Make sure you have an excellent bargain to grab the goodies for home at a reasonable price.
#33 Dubai Miracle Garden
Dubai will bloom every year from mid-November to mid-May. It is quite hard for a dry country like Dubai, to have a garden. However, the miracle garden is an absolute human-made miracle that spans over a 72,000 sqm. Launched on Valentine's Day, 2013, Miracle Garden is 150 million flowers arranged in colorful arches, shapes, and patterns to form truly magnificent structures.
The garden has bagged a couple of records- Guinness World Records for the most extensive vertical garden in 2013, the world's largest floral sculpture forming the shape of an Airbus A380 in 2016 and accolade for the Tallest Topiary Sculpture on 25 Feb 2018.
Every year, the Miracle garden will transform itself into a unique and new concept for the visitors. And there are 1.5 million visitors every year.
#34 Bollywood Parks
Bollywood Parks belongs to Dubai Parks and Resorts, which has a lot of thrills, entertainment, and surprises. Everyone in the Middle East regions has admired the Bollywood industry. Now, you can enjoy all the dramas, flips and suspense of Bollywood in this Bollywood park.
The magic of this film industry can be experienced in this world's first Bollywood inspired theme park. The rides and attractions are themed in the Bollywood blockbusters such as Lagaan, Krish, Dabang, Sholay, etc. Spread across 1. 7 million square feet, the Bollywood park is divided into five zones aptly called Bollywood Boulevard, Mumbai Chowk, Rustic Ravine, Royal Plaza, and Bollywood Film Studios.
You will experience the streets of Mumbai and can savor delicious Indian snacks in this park. Sabsan Holidays can make bookings for you so that you can have a stress free trip to Dubai Parks and Resorts.
#35 Dubai Aquarium and Underwater Zoo
If you want to have a close encounter with the fascinating sea creatures, then head to Dubai Aquarium and Underwater Zoo. Located inside Dubai Mall, Dubai Aquarium is a giant 10 million-liter tank that contains more than 33,000 aquatic animals and has the largest collection of sand tiger sharks in the world.
It is home to 140 species of sea life and offers snorkeling and swimming opportunity with the oxygen tank. The 48-meter tunnel envelops overhead. It gives a complete fish-eye view of the sea animals, especially sand tiger sharks and stingrays. Glass bottom boat tours (on top of the tank), cage snorkeling, and shark diving activities are other popular things to do here.
#36 Ras Al Khor Wildlife Sanctuary
Home to flamingos and other rare species animals, Ras Al Khor Wildlife Sanctuary, incorporates the mangrove forests and wetlands of Dubai creek. It covers an area of 6.2sqkm, and it's possible to spot grey herons, great egrets, reef herons, cormorants, black-winged stilts, sandpipers, osprey, etc. here.
It is one of the few urban protected areas in the arid zone. And it is breeding home to rare species of animals. There are three bird hides for the visitors where you can have a closer view of these birds without disturbing them. However, the beauty of the Flamingo group with the backdrop of the cityscape is wow.
#37 Alserkal Art District
Alserkal Art District is a quirky place in Dubai that became Dubai's main arts hub. The overall ambiance of the site looks straight out of an alien movie. With warehouses hosting art exhibitions, it is home to some of the city's most important contemporary art galleries.
Established in 2008, it is one of the region's leading platforms for contemporary art. They also host plenty of entertainment activities such as dance, music shows, and cultural experiences for local, regional, and international audiences. It is one spot in Dubai that develops the creative industry in Dubai.
#38 Dubai Butterfly Garden
Who hates this tiny insect? Butterflies have always been the favorites of kids as well as adults. Now you can spend your time being close to these insects and nature at Dubai Butterfly Garden. 15,000 butterflies are flitting under the domed enclosures, ready to mingle with the visitors.
Moreover, there is a museum that explains the butterfly varieties, their habitats, and life cycle.
#39 Al Qudra Lake/ Love Lake
Al Qudra Lake/ Love Lake is another destination in Dubai for nature lovers. It is located in the Saih Al Salam Desert in Dubai's southern region. This series of human-made lakes are a breeding ground of 100 species of birds and several desert plants. Swans, geese, ducks, flamingos, desert foxes, and the oryx are the main residents here.
Al Qudra Lake is a perfect spot to have a picnic and camping. You can also have a leisurely ride around the Al Qudra Cycling Track.
#40 Sheikh Mohammed Centre for Cultural Understanding
Aiming to help the visitors and tourists understand the culture of Emirates, Dubai's current ruler, Sheikh Mohammed Bin Rashid, founded this institution, Sheikh Mohammed Centre for Cultural Understanding in the year 1995.
This nonprofit organization located in the Al Fahidi district provides Emirati meals and guided tours. Balaleet (sweetened crunchy vermicelli), chabab (cardamom-spiced pancakes), saloona (a stew), or machboos (a rice and meat or fish dish) will be served to you for during the food tour whereas the guided tour will give you a deep insight into the Emirati culture.
#41 Etihad Museum
Etihad Museum records the birth of the UAE in 1971. Opened in 2017, this museum portrays everything from the discovery of oil in the 1950s and the withdrawal of the British in 1968.
From documentary films to ancient artifacts and interactive sessions, this museum is a complete guide to the history and culture of Emirates. The museum also depicts the victorious occasions in the history of UAE and pay homage to the country's seven founding fathers.
#42 Jumeirah Mosque
Jumeirah Mosque is one of the most beautiful mosques in Dubai that is open to non-Muslims. The Sheikh Mohammed Centre will provide a one hour guided tour for Cultural Understanding, where they will explain the Islamic and Emirati culture. Make sure you wear a modest dress while you visit this mosque. However, traditional clothing can be borrowed for free. Cameras are allowed.
#43 Alserkal Cultural Foundation
Alserkal Cultural Foundation is a non-profit cultural that showcase local and international artists. There are also other spots in these cultural hubs to stroll around, such as an arty urban-style cafe, a small gift shop, an Arab fashion boutique, a reading room, and upstairs workshop space.
#44 Green Planet
Green Planet is an indoor tropical paradise that aims to educate the biodiversity and nature for both kids and adults. Located in Dubai, it is home to more than 3000 animals and plants, including birds, butterflies, frogs, spiders, and snakes. There is also a bat cave where you can have a close encounter with fruit bats.
It is not hard for a country like the UAE to make a green planet, which is efficient enough to build a ski resort in this desert on the first hand. One of the main specialties of this indoor tropical park is you can get close to the animals and birds here. Moreover, the kids will get an explorer kit that has binoculars, a cool canvas bag, and an activity book (Dhs55). So, the kids can have a real-time forest exploration.
#45 Perfume House
If you are a perfume lover, then we are sure you would love these interactive exhibits that detail all things scent, smells, and fragrance. Perfume house is the former home of a Dubai Sheikha which has been renovated and restored that portrays the Sheikha's love for perfumes.
It is part of the Al Shindagha Museum restoration project and has a tiny gift shop that sells expensive perfumes.
#46 Museum Of Illusions
The museum of illusions is becoming a favorite spot for kids and adults in Dubai. Opened in September 2018, this museum in an Instagram worthy spot in Dubai with various optical illusions that are highly recommended or kids. Make sure you visit the museum on weekdays because weekends will be busy and visitors are restricted by number, and you may have to wait your turn.
#47 Zabeel Park
Zabeel Park is the ultimate picnic location in Dubai. With a lot of greenery, palm, and the park, it offers a laid back time in the city. It has activity zones, including a lake with boat rides, a playground, covered barbecue areas, a jogging track, and a miniature train.
#48 Sheikh Saeed Al Maktoum House
Sheikh Saeed Al Maktoum House has been restored recently as part of the new Shindagha Historic District development. It was the home of the grandfather of current Dubai ruler Sheikh Mohammed Bin Rashid, from 1912 until his death in 1958. Today, it stores some of the rare and private pictures of the Al Maktoum family along with the photographs of Dubai before oil invention and the creek festivals. There are coins, stamps, and documents from the old days, as well.
#49 Wafi Mall
I have already mentioned about the malls and shopping areas in Dubai. Almost all the malls in Dubai are unique in their ways, but the Wafi Mall is a beautiful spot. The mall is set in ancient Egypt theme with pyramids, mummies, statues of Ramses and Anubis, and ancient hieroglyphs. Visit during the colder months to enjoy the free outdoor movie screenings that happen in the Rooftop Gardens.
#49 Cayan Tower
Designed with a 90-degree spiral over the course of its height, Cayan Tower is a building in Dubai Marina stretching over 307 meters. The building is a mindblowing one since the design actually reduces wind forces on the structure and direct solar radiation. Cayan Tower stands as a unique piece in the middle of Dubai Marina sky scrappers and is worth taking a drive.
#50 Dubai Dino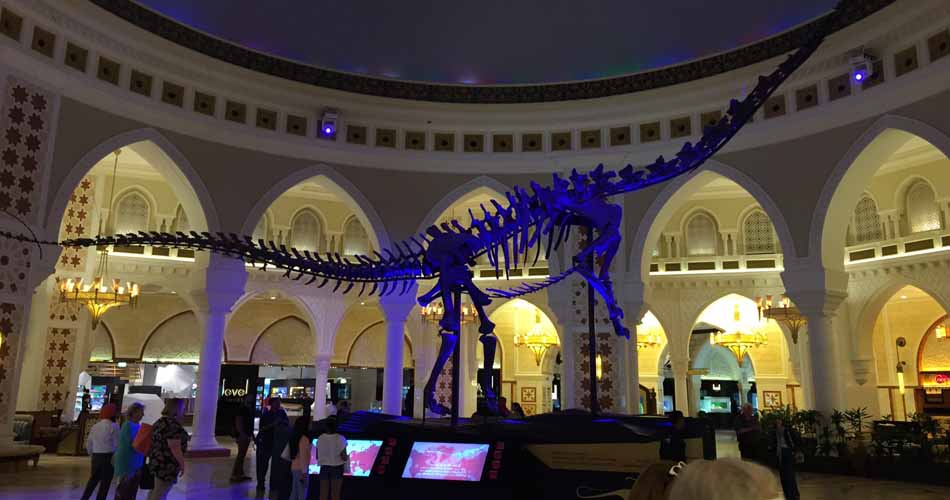 Dubai Dino is a once in a lifetime experience. One of the main attractions of Dubai Mall is this Dubai Dino that adorns beauty and charisma to the Dubai Mall's Souk Dome. This Amphicoelias brontodiplodocus fossil is a 155-million-year-old dinosaur skeleton unearthed in Wyoming in 2008. It stands 7.6m tall and measures 24.4m long with a very long tail filling up the whole area.
#51 Night Beach
How about a late-night swim? You can now have a dip on the beach after sunset, which is illuminated by the 12m-high wind- and solar-powered floodlights and with lifeguards. It is legal to access this beach, which is located one kilometer north of the iconic Burj Al Arab. However, It would be super amazing to swim late at night with the backdrop of this iconic structure.
#52 Dubai Police Museum
If you would love to explore the historical Infos, vintage pieces of equipment, pictures, and mostly the supercar police vehicles of Dubai, then head to Dubai Police Museum. It is one of the best spots in Dubai, which can't be missed.
I can keep on writing about the splendid location of Dubai. This magnificent city is filled with amazing tourist destinations. In fact, every corner of this city is a touristic spot. You can choose the corner you want to explore. However, if you are confused about where to start, you can reach out to Sabsan Holidays.
Sabsan Holidays are the leading tour operators in Dubai. We do everything under travel and tourism. Our skilled and experienced staff will make sure that you had a memorable time in Dubai. If you want to explore this astounding city without any hassles, contact Sabsan Holidays .
---