Thrill, adventure, adrenaline pumping… Are those words evoking the adventure junkie in you? Then book your next tickets to Dubai for an adventurous vacation. Dubai is more than just the glitz-filled extravagance. From dune bashing to sky diving, Dubai has everything to quench the escapade thirst in you. Here are the top 10 Outdoor adventure activities in Dubai.
1 Sky diving
The king of adventures- sky diving. Enjoy the marvelous beauty of Dubai from 4000 meters above and lose yourself for a minute of free fall followed by a gentle descent for five minutes. As you dive down, you will capture the most beautiful eagle eye view of the iconic spots in Dubai such as the Palm Islands, the World Islands, and Burj Khalifa. If you have Sky diving in your bucket list, then I insist you do that in Dubai.
2 Fly board
Have you ever had that dream to fly like Iron man? Then turn that dream into a reality in Dubai with Fly board.
The Dubai coastline has been smitten recently with this adventurous activity. The Fly board has a hose that is connected to a jetski engine. And this engine pumps water out of the tube at a great force, allowing one to propel into the air at heights of up to 10 meters. Wohoooo..!! Fly high!!!!
3 Hot air balloon
How about a huge balloon to make you float like a cloud in the air?
Fly 4000 meters above the ground away from the hassles of city life and enjoy the fantastic view of the desert on one side and the Persian Gulf on the other with a modern Dubai in between. Float in the air and marvel the beauty of the dramatic and fascinating landscape of Arabian desert. I bet you won't experience than anywhere else in the world.
4 Formula Rossa- Ferrari world
Formula Rossa is a synonym for an adrenaline rush. Do you why? Because it is the world's fastest rollercoaster that rolls over a speed of 240km/h in 4.9 seconds. Oh sorry forgot to mention, it has a heart-racing height of 52 meters. So, tell me when are you trying this?
5 Parasailing
You can only assume the shape of Palm islands if you are planning to spend your time on the ground. Sign up for parasailing and soar high above the Arabian Gulf; get the aerial view of the palm islands and JBR.
You will be towed behind a boat while being attached to a specially designed canopy wing known as a parasail. Rise up to an altitude of about 500 feet (150 meters) and enjoy the incredible beauty of the iconic spots in Dubai.
6 Zipline
Experience the superman effect at speeds of up to 80 km per hour in the world's longest urban zip line located in the Dubai Marina. The 170 meters up sky view is not advisable for the faint-hearted people, but it is spectacular for the other section of the crowd who adore adventures. Have a try, folks!
7 Dune bashing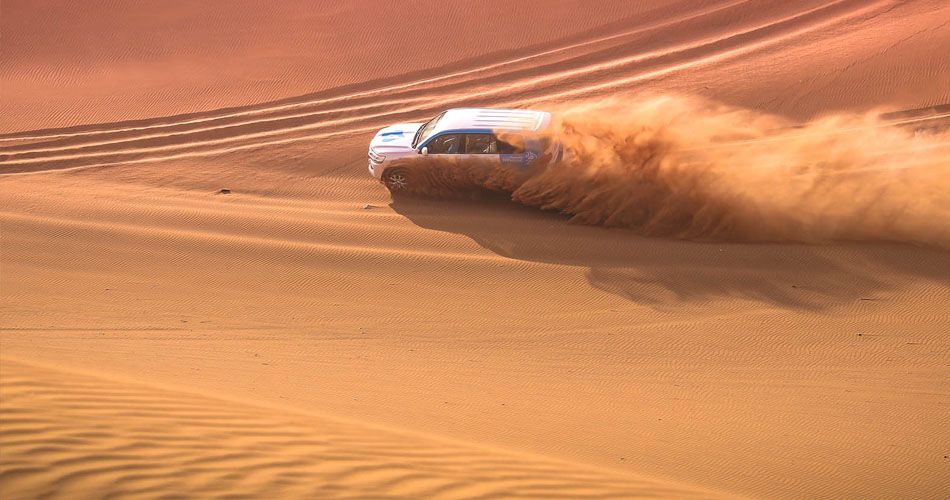 A super summersault is not a bad idea in the Arabian desert that too in a Prado. Sign up for the dune bashing with Sabsan holidays and enjoy an exhilarating desert experience. Vehicles with more than enough power in the wheels and flat profiled tyres can participate in the dune bashing activity (in case if you need a personal ride). Most of the desert safari deals will give you dune bashing experience. However, there are exclusive deals for dune bashing alone.
8 Helicopter ride
A private ride overlooking the magnificent land of Dubai is what sums up the helicopter ride. The Dubai helicopter ride is providing private and shared tours with complete luxury and fun. It is a rare happening to get an opportunity to witness these magnificent wonders in a completely different view. It is a privilege that only a few people get to enjoy. So, don't miss it!!
9 Seaplane
Seaplane Dubai offers a magical journey across Dubai's dramatic and ever-changing coastal skyline. Experience unique water take off and landing and marvel the spectacular beauty of old and new Dubai as you fly above traditional souks, skyscrapers and the coastline. You can also choose seaplane activities for corporate events, leisure activities and special occasions like weddings.
10 Scuba diving
Because of the vast coastal line and those enchanting islands which favor the divers all around the globe, Dubai makes a perfect location for splendid diving. Water temperature is consistently warm, and the life beneath the ocean is exhilarating, so why should you miss this extraordinary opportunity? Explore the dazzling marine life of Dubai coast by signing up for scuba diving.
Avoid the last minute hassles and book these Outdoor adventure activities in Dubai with Sabsan holidays.